08 juillet 2007
...is Michelle Ramirez !!!!!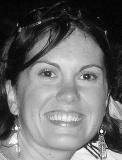 Michelle is one talented lady, with a very freestyle and funky way of creating! You gotta love Michelle's style!
Here is a questionnaire she was ovely enough to reply to, in order to get to know her better! and Check out her RDG gallery to be INSPIRED!
THANK YOU Michelle for being our July Designer! You totally ROCKED the RDG products!
:)
RDG: Hello Michelle!Thank you for being our July Guest Designer !!! We are honored to have you here!
Please tell us more about yourself !
Michelle :lets see.
*mommy to olivia and kyan
*thrift store lover
*love watermelon dr peppers from Sonic
*addicted to spinning
*favorite items to make these days are minis.
*happy to be a fashionista at Scrap in Style.
*love my flight suit wearin' man

RDG : How long have you been scrapping and what do you find so addicting?

M: geesh. i really think i have scrapped my whole life. when my husband and I were dating i really got into it. then when my kids were born, it was my daily creative/ stress relief outlet. its oh so addicting. Seriously, its one of those things where it snowballs my thoughts. everywhere i turn i see color ideas or funky prints ..its just a way of life and a good one at that!

RDG : What do you like about the Rouge de Garance products?

M: that they are so fresh, full of life, and color...hands down.

RDG : What are your TOP 5 fave products you couldn't live without?

M: 1.funky thrift store find embellies
2.letter stickers
3. stapler
4. mini glue dots
5. crazy colorful patterned paper

RDG : Do you have any Scrapbook artists that you really like?

M : oh i admire lots of peoples work. I am constantly blown away by ideas that people come up with. I love that people share their art for all to drool over.

RDG : So what have you been up to lately? any great scrapbook projects?

M: i have been submerged in moving. My normal scrap area and supplies are in storage for 5 months until we get settled in Ventura, ca. Sad sad sad. I am surviving off of a huge moving box full of my favorite goodies. i am thinking it will make for some cool projects to come though.people say that less is more right?
One i am working on is a transistion journal about our move from Kauai to Ca....its chalked full of randomness and i love that!
and another is a lucky card stack. My first one was started on "the luckiest day of the year" 7-7-07. My goal is to alter cards everyday for a year , simlilar to what alot of people are already doing, and focus on the things that make me one lucky mama.

thank you so much Michelle for being our Guest Designer! We just LOOOOOVE everything you create!

céline