07 août 2007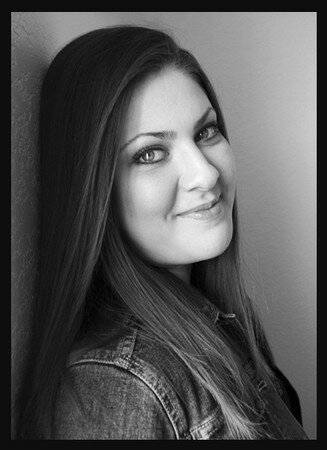 I'm proud to have the talented Mara-May as a Guest Designer this month!
This girl is a gem : she uses colors like nobody else and not only she's a beauty, she's SO SO SO talented!
She's gonna inspire you for a looooong time with the wonderful layouts she made for the August Gallery! and don't forget to learn more about her with her questionnaire!
Here it is...
Bio:
My name is Maranatha Baca, for short Mara-May*.
I am 25 years young living it up in Central Cali. with my husband Tim and adorable little guy Timmy.
I am an amateur photographer who dreams of her own studio near the beach.
I scrapbook because I love it. I have always been an artist ever since I was young. I would look forward to Fridays (art day). I especially loved when we would use chalk. I remember as a child having numerous sticker books and stationary sets. I loved keeping little pieces of memorabilia in small boxes that I had decorated. To this day I still have some of it. In high school my binders were always covered in pictures, magazine clippings, and lots of doodling. So with all of that how could I not become a scrapbooker. It was destiny. Ha Ha Ha.
My style I would have to say is trendy and fun. I love keeping up with all of the latest and greatest and most of all making a page that makes me smile. Inspiring to me is anything that uses lots of color. I love bright and bold! My favorite colors to use would be black, white, sometimes pink, and a splash of turquoise. Favorite product, alpha stickers and black rub-ons. Favorite line, anything K.I. Memories.
1.How long have you been scrapping and what do you find so addicting?
I have been serious about scrapbooking since 2004. All the new product is what keeps me coming back for more. HeeHeeHee
2. What do you like about the RdG products?
Color and design. ITt's amazing and definitely like no other. It has sucha n awesome uniqueness that totally stands out and I love that!
3. What are your top five favorite products you couldn't live without?
Hmmmm 1.Patterned Paper (of course) 2.Alpha Stickers 3.Flowers 4.Brads 5.Rub-ons
4. Are there any scrapbookers you really like?
Most Definitely! #1 I'd have to say Adrienne Looman. She is so amazing and just awe inspiring. 2. Elsie (duh) She's just so so ELSIE (ha!) 3. I ADORE Heather Burch that woman has got some AMZAING talent when I grow up I wanna scrap just like her! :) 4. Celine Navarro this chick is taking over scrapbooking. She blows me away. The things she does are so different and colorful I wanna eat everything she's made! YUM!
5. So what have you been up to lately? Any great scrapbook projects?
Well I like to consider all of my layouts "great scrapping projects" HaHaHa I've just been busy creating layouts for different teams that I'm desgining for and making pages to try out for other teams. I'm dying to make an acrylic album though. :)
Thanks so much for having me this month! It's been an honor and I've had so much fun creating with RdG! Delicious stuff here! Love it all! You guys are awesome!

Thank YOU dear for being such a HUGE inspiration to all of us!
Here are Mara May's stunning projects using Rouge de Garance products!!!!! BE INSPIRED!