12 septembre 2007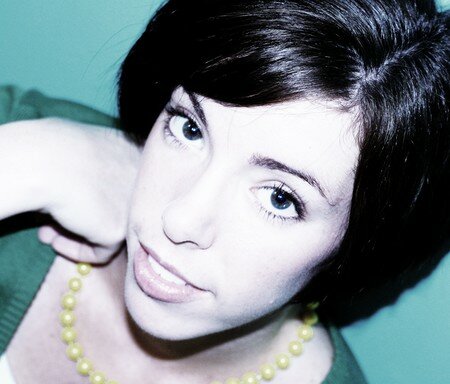 RDG: Hello dear!
Thank you for being our September Guest Designer !!! We are honored to have you here!
Please tell us more about yourself ! (bio, resume...)
Amber : Im 23…Married to my hubs for almost 3 years now. We have 2 crazy furbabies, Roxy Lucille and Harley Vaughn that keep us plenty busy! I live right outside of
Nashville
in our first lil bungalow home in a historic neighborhood on Old Hickory Lake.
We dabble a lil bit in the photog world and am totally LOVING it!
I am a banker by day, scrapper by night. I love all things COLORFUL and BRIGHT!
My scrapbooking style is a trendy mix of eclectic-ness. I love new products and trying to find as many ways to showcase them. I love texture and small vintage touches like lace and rhinestones. I like to think that my scrapbooking is influenced by my choice of fashion and home décor. I always like adding a new little touch every now and then. Keepin' it PHRESH!
RDG : How long have you been scrapping and what do you find so addicting?
Amber: I've been seriously scrapbooking since August 2006 and the constant change of trends and styles is what keeps me pretty much obsessed.
RDG : What do you like about the Rouge de Garance products?
Amber: The COLORS are amazing and the eclectic design totally sparks my inspo!
RDG : What are your TOP 5 fave products you couldn't live without?
Amber: Hambly (everything), AC Thickers, Bam Pop, stamps and now RDG!
RDG : Do you have any Scrapbook artists that you really like?
Amber : Absolutely! Elsie, she is just flowing w/creativity. Celine Navarro, she uses product like I've never seen! Corinne Delis, she is just so eclectic and fresh. Adrienne Looman, I'd love some of whatever she has that gives her such crazy inspiration! Kristina Contes, I just love her color choices and designs!
RDG : So what have you been up to lately? any great scrapbook projects?
Amber: I've been working on several design team layouts and projects as well as my layouts for the Finding You Workshop design team. I am also working on some things that are "under wraps" still! ;) Fun stuff for sure!
thank you so much for being our Guest Designer! We just LOOOOOVE everything you create!
Now discover all the beautiful layouts Amber has created for us! BE INSPIRED! :)